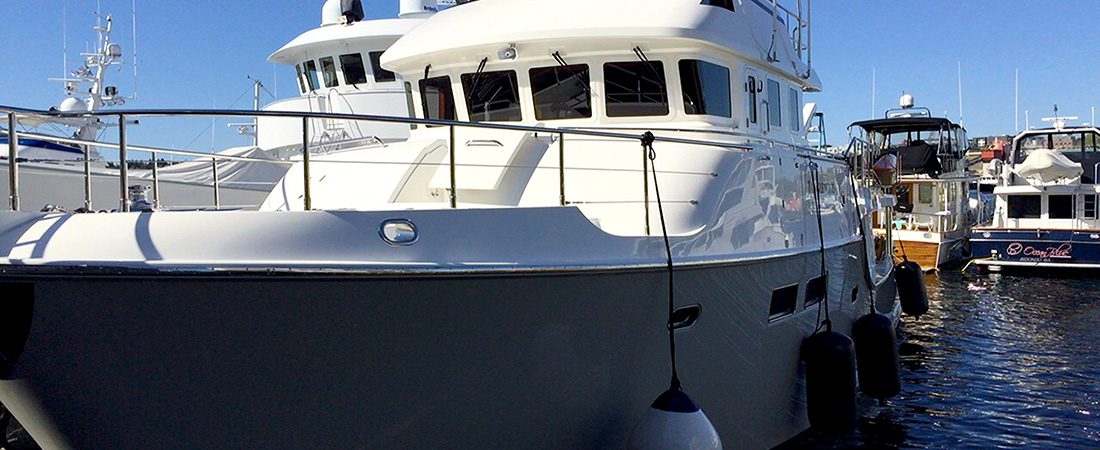 Testimonials
After much searching and many excellent recommendations, we chose Bow2Stern for the installation of Whisperwall on Reflections, a 98′ Broward Motoryacht. Wences lived up to our high expectations, providing quality service and excellent craftsmanship. The job was completed on time and on bid. We cannot more highly recommend his services."
Captain Clint Cropper
M/Y Reflections
http://www.yachtnw.com/trueblue/crew.html 
---
"Wences and his crew are very hard working.  No matter the size of the job (big or small) Wences is always able to get the job done in a timely matter and within budget."
Brett Aggen
Emerald Pacific Yachts
http://www.emeraldpacificyachts.com/our-staff.php
_______________________________________________________________________________________________________
"I had the Grand Banks board of Directors on the boat today and they thought the boat looked like new. Thanks to your crew for a marvelous job."Wences: It was great to speak to you today as well. Thank you for your friendship and great attention to Sanctuary. Thanks to you and your crew she remains after 9 years as a beautiful boat that draws many compliments as "new".
I look forward to seeing you soon,
Jeff Bland
Grand Banks 72′ Sanctuary
---
"I wanted  to take a moment and thank you and your knowledgeable crew for providing us with many years of quality detailing services for our new and previously owned yachts.
One of the things I really like about your company is that you've never said to use that the job is too small or too large; you usually finish in the time frame that you quote and within budget as well.
The clients that I have sent your way have always been very pleased with your work. If anyone had concerns you personally meet with them or I to make sure the work was done to the client's satisfaction.
Your crew is always friendly, they jump in and offer assistance when they notice we need a hand moving a boat, loading equipment or whatever the task may be. The level of service you provide and your attention to detail is always topnotch."

Martin Snyder
Hampton Yacht Group
http://www.hamptonyachtgroup.com/
---
"Wences Ramirez and his crew at Bow to Stern have been taking care of our boats for over 8 years.  Emerald Pacific Yachts uses his services exclusively for our semimonthly exterior washes of all our brokerage and new yachts.  We also call on him when we have our new Horizon Yachts arrive from Taiwan.  His crew is essential to clearing the boat of all packing materials and debris.  After commissioning, Bow to Stern also details both the interior and exterior of these yachts.  We have always appreciated the quick response, dedication to good service from Bow to Stern."
Terry Cooke
Emerald Pacific Yachts
http://www.emeraldpacificyachts.com/
---
"We have had Bow2Stern LLC provide both scheduled and specific cleaning of our 67' MY (Matchmaker).  We have been pleased with the service they provide.  They pay attention to details and are not afraid to ask questions to be sure they are doing what we expect.   They are accessible for scheduling via email in addition to texting and phone which is very helpful.  We would not hesitate to recommend them."
Thomas A. Barghausen P.E.
.Cristal Charters LLC
---
"I own more than one boat and find it hard to keep up with all of my bimonthly washes and detailing. I have hired Wences Ramirez and his crew to help me take care of my boats and have had great results. They make an effort to make sure that I am happy with the work they have preformed. This is rare to see and that they will listen to make sure that the services are meeting or exceeding your expectations. I have been in the marine industry for over 20 years and I have hired many crews, Wences's crew shares a goal to please! It seems like the guys they are in a competition with each other to see who can make the boats shine brighter. They also do not leave a mess around the other boats and surrounding dock as I have seen with others. For years now, I am happy with the crew from Bow to Stern and have utilized their services for my clients as well. They have a high level of professionalism and I would recommend them to my clients and friends. The equipment, materials and crew are all top-notch, I love how my carpet looks when they have used the steam cleaner on it, or how my gelcoat shines when they have buffed, polished and waxed my boat. The effort that they put forth is something I have to say makes me feel good recommending them."
JR Yuse
V.P. Northwest Yacht Brokers Association
Certified Professional Yacht Broker
www.hamptonyachtgroup.com
---
"We have been working with to Bow 2 Stern to provide superior detailing services for over 6 years now to provide exceptional service for our discerning owners and crew of fine yachts. Wences and his team have always been extremely reliable and professional. They are very hard working and go the extra mile to make sure the job meets or exceeds our expectations.  We have grown our business based on our reputation of professionalism and Bow 2 Stern shares those same business ethics.  They make it an easy choice on who to call for yacht detailing."
Paul Zimmer
S3 Maritime
http://www.s3maritime.com/
---
"I would like thank you and your organization for the professional manner in which you handled the care of our yacht during the period it was for sale in Seattle. Most impressive was the extent to which you kept an eye of things for us and worked hard to do the best work for competitive pricing.
I would recommend Bow to Stern to any of my friends seeking a similar service. We truly felt you gave us options throughout the course of the listing and were very thorough in the manner in which you conducted the maintenance and repairs during this period."Warm Regards,
Ron L. Bissell
Sunseeker 64 Mistral
---
"I can't thank you enough for the fabulous job you and your helpers have done on our boat. You have managed to do something few have been able to accomplish—- you have exceeded my expectations.  It's so great to know people like you who care so sincerely about the quality of your work.  I will be an active supporter of Bow 2 Stern forever!"
Cindy  Ward
Lumber Jack- Boat House

---
Good Morning Wences,
Please charge invoice to credit card you have on file. Could you also email me a "PAID" invoice once the card is charged. Thanks for the great work.
Best,
Brian Reed –
104′ Crescent "Reposado"
Whisperwall Headliner Installation & Detail Wash

---
Hi Wences,
Thanks for the great work and great communication.
Tim Kohn
---
I would recommend calling Bow 2 Stern regarding washing, waxing, detailing your boat in preparation for listing it for sale.     They have worked on my personal boat and done great work.
Sincerely –
Mark Rinker
Sales Consultant
---
Lake Union Sea Ray
As a self employed Motor Yacht Captain for the past thirty six years, I provide safe, professional and reliable service to my clients. I treat each one like the valued customer that they are and give them value for their money. That is exactly what I get from Wences and Bow to Stern all of the time…………………..every time.
Chris Couch
Captain
---
Wences,
The boat looks better than it was delivered new 12 years ago.  When I first saw it, I thought you had replaced the teak, instead of cleaning it.
Great job !
Brooks Simpson – Typhoon